International travel can be exciting but pose various health risks, depending on the traveler and the trip. When visiting a foreign country or traveling locally, there are life-threatening diseases that you should be aware of, such as malaria, yellow fever, the possibility of food poisoning, and diarrhea. 
What is malaria?
Malaria is a dangerous infection that occurs when an infected Anopheles mosquito bites a person and injects malaria parasites into the blood. Symptoms may develop within seven days.
What are the symptoms of malaria?
Tiredness 

Headache

Cough 

Fever

Diarrhea

Generalised body aches
Note that these symptoms may not be dramatic and can easily be mistaken for an attack of influenza or a similar non-life-threatening illness.
Which countries have malaria?
Malaria's highest transmission in Africa, South of the Sahara (in countries such as Nigeria, the Democratic Republic of the Congo, the United Republic of Tanzania, and Mozambique). However, malaria depends mainly on climatic factors such as temperature, humidity, and rainfall. Malaria is transmitted in tropical and subtropical areas, where:
Anopheles mosquitoes can survive and multiply, and

Malaria parasites can complete their growth cycle in the mosquitoes. 

The map below shows an approximation of the parts of the world where malaria transmission occurs.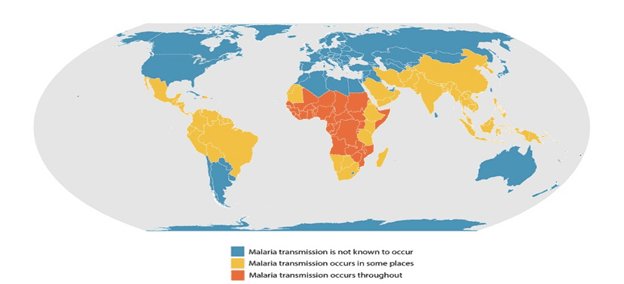 Ways to prevent contracting malaria
Consult a travel clinic about the risk of malaria in the area you intend to visit.

Protect yourself against nighttime mosquito bites.

Apply DEET-based insect repellent to exposed skin.

Wear long-sleeved clothing and long pants if you are outdoors at night.

Use mosquito nets if your bedroom is not screened or is air-conditioned.

Spray an insecticide or burn a coil in your bedroom or tent before going to bed.
Travel health tips
Get your travel vaccines at least a month before traveling to be fully protected. However, even a last-minute visit to a healthcare provider can be helpful to get medicines and advice for your trip. 
If you take prescription medication:
Pack enough medication to last for the entire trip, and add medication for extra days in case of delays.

Carry your medication in the original labeled containers and pack it in your carry-on bag since checked baggage could be delayed or lost.

Ask your doctor for the generic equivalent name of prescribed medicine if you need to purchase additional medication abroad.

Keep a copy of your prescription medication with you. Some countries have strict regulations in this regard.
Intercare travel health specialists can make a difference. 
They offer the following services:
Pre and post-travel-related medical services

Yellow fever vaccinations & record cards

Malaria prophylaxis

Travel medication 

Prescribed medication for chronic health conditions

Advice on travel health aspects
 Find your nearest Intercare Travel Clinic, here.
Sources
Subscribe to our newsletter
Join our mailing list to receive the latest news and articles, competition announcements, and webinar dates.