To prevent germs and avoid getting ill, children must know how to wash their hands properly. As most parents know, it can be challenging to get children to wash their hands, let alone for the recommended 20 seconds.
Follow our step-by-step homemade surprise soap with a toy inside instructions – and make washing hands fun and exciting for children. You'll love these homemade soaps because they're super cute and easy to make.
Your children will love washing their way to a hidden toy.
What you need
Clear Glycerine soap block (from any arts & craft shop)
Silicone mould (ice tray works well)
Microwave-safe measuring cup
Red, yellow, and blue soap dyes (found at craft stores)
Small toys or trinkets (make sure they will fit into the mould)
Microwave
Essential oils (fruity scents are particularly appealing to kids)
A chopstick or popsicle stick
Step 1
Cut the glycerine soap block into 4cm cubes to make the melting process faster. Place the cubes in a microwavable measuring cup.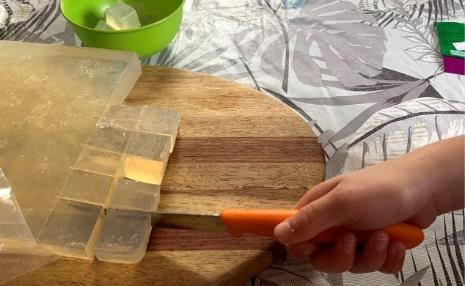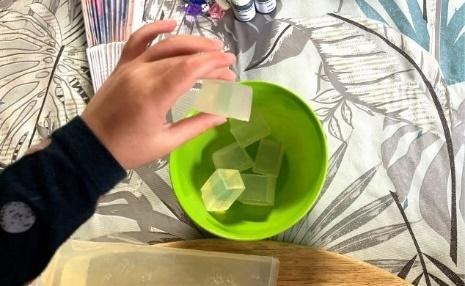 Step 2
Microwave 15 glycerine cubes for 1 minute. Remove the melted soap from the microwave, add a few drops of essential oils, mix well using a popsicle stick. Pour half the mixture into another measuring cup and add a drop or two of the liquid soap dyes. Stir the dye into the soap using a chopstick or popsicle stick.
Step 3
Pour the melted soap into the moulds about a third of the way to the top. Place into the freezer and let the soap cool for about 15 minutes.
Step 4
Place a plastic toy or trinket on top of the hardened soap in each of the cubes.
Repeat step 2 – melt & colour the remaining soap. Pour the second layer of soap into the mould, covering the plastic animal or trinket until the liquid reaches the top of the tray.
Step 5
Allow soap to completely solidify and cool down, about 1 hour, before removing from the moulds.
Seal in plastic wrap to store or wrap with baking paper and string to give as a gift.
And there you have it!
Your children will love washing their hands every time to get closer to finding their new toy, with the added advantage of them wanting to wash their hands more often.
Make clean hands your habit – it protects us all!
Related article: The Importance of Handwashing for children. Read more

Subscribe to our newsletter
Join our mailing list to receive the latest news and articles, competition announcements, and webinar dates.