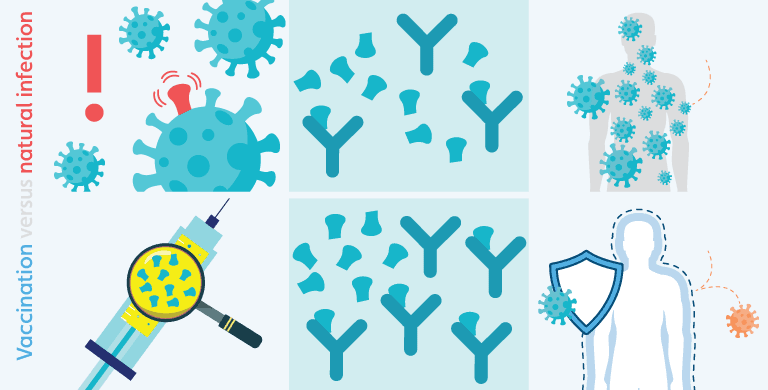 Part 4: Vaccination versus natural infection
The problem with letting natural infection with the real virus teach your body how to recognize and fight the virus, is that if the infection is very dangerous, it may cause death or severe complications. Given the severity of COVID-19, following this approach would result in devastating loss of life. 
A vaccine, however, mimics natural infection by the virus without actually causing infection, allowing us to enjoy the benefits of building up an immune memory against future infections, without the potential risks associated with needing to first be infected with the real deal. In addition, vaccines are often designed to provide better and longer-lasting immunity than infection with the natural virus does. Vaccine-induced immunity may also be less impacted by new variants than immunity developed through infection, particularly in terms of protection against severe disease.  
Sometimes after vaccination, the process of building immunity can cause symptoms, such as fever, body aches or just feeling a bit ill. These are usually mild and don't last more than a day or two. 
Subscribe to our newsletter
Join our mailing list to receive the latest news and articles, competition announcements, and webinar dates.